Women's Resistance, Resilience and Respect for Human Rights: Fundraiser House Party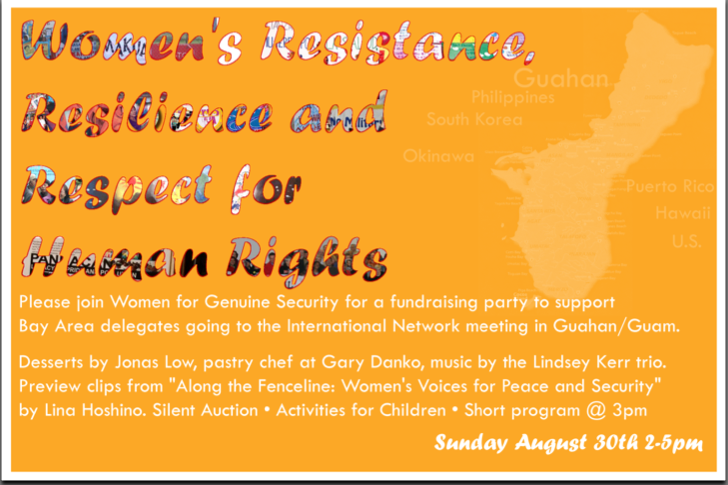 Please come to:
1607 Sonoma Ave. Albany (home of Debbie Lee and family)
on
Sunday August 30th 2-5pm. Short program at 3pm
Events include:
*Deserts by Jonas Low, Pastry Chef at Gary Danko
*Lindsey Kerr trio
*Preview clips of WGS film, "Along the Fenceline: Women's Voices for Peace and Security" by Lina Hoshino
*Silent auction
*Activities for children
Driving directions:
From Highway 80, take Buchanan Street/Albany exit. Turn right and continue east on Buchanan/Marin Street. Turn right on Peralta. Left on Sonoma. Enter through pathway to the backyard garden.
Need a ride from North Berkeley BART? Call: 415 312-5583
Tax-deductible donations should be made payable to the Agape Foundation and earmarked "WGS." For online donations, visit our website. We can also accept donations payable to WGS. Please mail checks to WGS, 965 62nd Street, Oakland CA 94608
Who we are:
We envision a world of genuine security based on justice, respect for others across national boundaries, and economic planning based on local people's needs. Our shared mission is to build and sustain a network of women to promote, model, and protect genuine security in the face of militarism. We are part of the International Women's Network for Peace. The International Women's Network started in 1997 and links women activists, policy-makers, teachers and students from Guam, Hawai'i, Korea, Okinawa, mainland Japan, the Philippines, Puerto Rico, and the United States to share information and strategize about the negative effects of military operations in all our countries.