Join Us!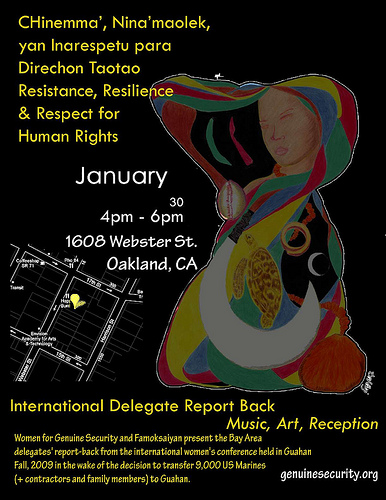 CHinemma', Nina'maolek, yan Inarespetu para Direchon Taotao
Resistance, Resilience & Respect for Human Rights
4PM – 6PM, January 30, 2010
1608 Webster St., Oakland CA
(19th St. Oakland BART)
Women for Genuine Security and Famoksaiyan present the Bay Area
delegates' report-back from the international women's conference held in Guahan
Fall, 2009 in the wake of the decision to transfer 9,000 US Marines (+ contractors and family members) to Guahan.
Events include visual arts, musical performance, film slide show, and speakers from the US delegation: Erica Benton, Annie Fukushima, Lina Hoshino, Gwyn Kirk, Deborah Lee, Sina Uipi.
Visit www.genuinesecurity.org for more details or email
info@genuinesecurity.org